Pinup Dollars Announces New Original Big Boob Content!
Pinup Dollars
is Proud To Bring You loads of New FHG, Videos, FLVs, and Downloadable Content that your surfers
are sure to enjoy!

Pinup Dollars Features:
---------------------------
* 100% Exclusive Original Big Boob Content
* Real Time Stas
* Payout Every 2 Weeks
* Nats Affiliated Backend - Detailed real time stats
* Easy Integration of CCBill to Nats
* Weekly Updated Marketing Tools[/b]
* Banners, Full Page Ads, Half Page Ads, Picture of the Day, Videos of the Day, Hosted Video Galleries, Hosted Photo
Galleries, Gallery Builder, Downloadable Photos, Downloadable Videos, Hosted, Peel Ads, rotating content, TEVS Compatable
and a Link Dump Generator to top it all off!
* Up to 60% Revshare
* 10% Webmaster Referrals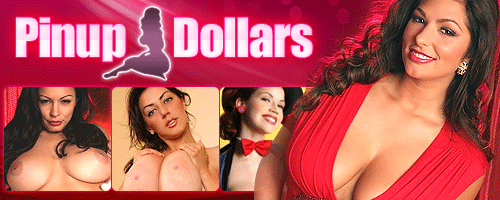 Pinup Files
New FHGs
----------------------
Monica Mendez topless in sexy stockings
Rachel and her hard nipples in a tight white tshirt
Sara Willis in a brown bikini and sexy shades
September Carrino
New FHG
----------------------------
September Carrino in a black scarf and panties topless
September Carrino shows you her Huge All Natural Breasts!
September Carrino Totally Nude with a sexy black scarf
September in a tiny Red white and blue bikini
Rachel Aldana
New FHG & Videos
-----------------------------
Rachel Aldana and Denise Milani in black and blue sexy bikinis
Rachel in a hot gold bra
Rachel in a denim shirt
Tons of New FHG, Vids, Flvs and Downloadable Content have been added this week for your surfers enjoyment!
Send your traffic to Pinup Dollars and let us make you big money with our Busty Glamour Models.
For any questions or special marketing needs please feel free to contact your affiliate manager.
Happypeekers ( April )
ICQ - 287629606
Skype - Happypeeker.s
happypeekers@pinupdollars.com